Desert
This area allowed visitors to experience and witness the desert life of the Bedouins.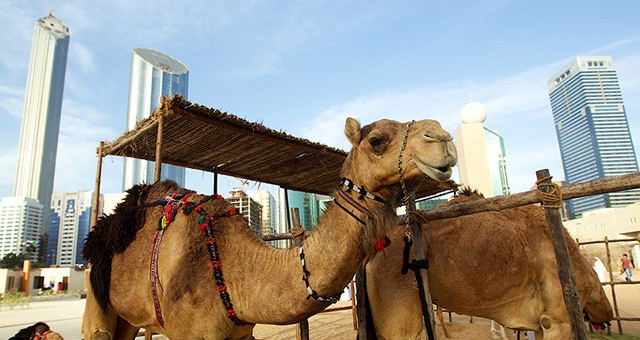 Ongoing activities included Hatheera (with the techniques of making traditional coffee), butter making and traditional food tasting. Vistors could watch demonstrations of Al Yowla (a traditional male Emirati dance for males), and traditional Bedouin etiquette and saddle making.
With the support of the Environment Agency Abu Dhabi, an animal pen housed the now-endangered Houbara birds, giving visitors the opportunity to learn about the UAE's conservation efforts to save the species from extinction. Other traditional animal activities included Saluki dogs displays, a falconry demonstration, the chance to see the local camels, and watching and taking part in activities such as camel milking and riding.
Workshops included Kandoora dying, Burqa making, palm weaving (Khoos), traditional Arabic coffee (Gahwa) making, and Henna and Dukhoun preparation and use. All workshops took place in the Bedouin Tent in the desert area.
For more information on workshops, please click here.